The Armchair Treasure Hunt Club
A Monkish Plot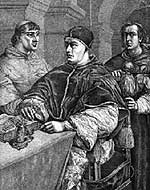 A Monkish Plot was published along with the August 2002 newsletter and was written by Ann Hughes.
It tells the tale of an illuminated manuscript owned by the monks at the twelfth century Cistercian monastery, Blackrock Abbey. The manuscript was found and translated by Father Bernard and his work was completed at the end of the nineteenth century. A further clue to the hunt was published on the first anniversary of publication, in the August 2003 newsletter.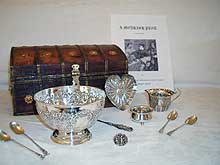 Working together Sandra Young and Roger Lintott unlocked its secrets by examining the story of the manuscript's discovery and translation. On the morning of 28 July 2004, this led Roger to a trig point on a hill near the ruined Abbey Cwmhir, north of Llandrindod Wells, Powys. There he unearthed an antique key, buried a few inches under ground in a plastic box. The keys allowed the pair to claim a wooden box of antique, hallmarked silver trinkets. The silver pieces, ten in all, range in date from 1869 to 1908. They include a silver bowl by Fenton Brothers and a Victorian cream jug, both with a 'vacant cartouche' (inscription plate).
Members may follow the discussions on this hunt on the Club bulletin board.

---
Return to the Club Hunts page or the site contents