The Armchair Treasure Hunt Club
A Shut And Open Case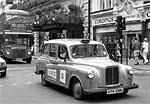 A Shut And Open Case was the first hunt written by Matt Edwards and Nick Perry and was published in August 2001 as one of four regional Sovereign Hunts.
A mysterious package arrived containing police interview transcripts from a fictitious 1985 West London Post Office Robbery, a newspaper clipping, and apparently innocuous London photos given to an accomplice of the jailed gang leader. The booty from the robbery, including a sold gold sovereign, remains buried, and with the only man who knows its whereabouts still banged up - there's a chance for someone to try and solve the clues in the evidence and claim the proceeds for themselves.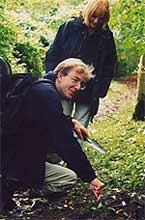 Martin and Deborah find the car in Sep 2001

The usual suspects claimed the first prize: Paul Harkin did much of the brain work and Martin Dennett and Deborah Hatton dug the booty up at the end of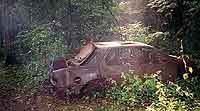 The burned-out car

September 2001 (pictured) - but they left some of the treasure behind in the ground for someone else to find.

With the promise of a sold gold half sovereign for the next person to unearth the remaining proceeds (but this time only for members who had not previously won a club hunt or herring) brains continued to work on this hunt, until one year and one week after Martin and Deborah, Sandra Young and her husband John followed the North Downs Way along Tandridgehill Lane, Oxted, Surrey (TQ 367 532) to find a burned-out car and a cashbox buried by its rear bumber.

| | | |
| --- | --- | --- |
| | | |
| John and Sandra a year later | Sandra forces open the cash box... | ...to find it mostly robbed out by the previous visitors! |
The original hunt can be downloasded here (580kb Acrobat® Reader required) and the solution, which was published in the October 2002 newsletter, can be read here.
Members can follow the discussion for this hunt on the bulletin board and the mysterious pictures from the hunt can be found at here.
---
Return to the Club Hunts page or the site contents